Multiplex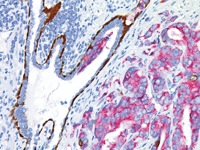 Biocare Medical is the proven leader in providing multiplex detection platforms that enable simultaneous IHC staining with multiple antibodies on a single slide. This superior detection system increases reimbursement per slide, simplifies procedures and reduces turnaround time.
Multiplex Micro-polymer Detection Kits
The innovative AP (Alkaline Phosphatase) and HRP (Horseradish Peroxidase) micro-polymer technology is specially designed for a rapid multiplex stain procedure, i.e. multiple antigens on the same slide. The micro-polymer confers significant increase in staining sensitivity when compared to conventional polymer detection systems. The micro-polymer multiplex detection kits are optimized for human tissue.
Key features of multiplex micro-polymer detection:
Simplifies protocols by reducing the number of steps (4 steps)
Eliminates endogenous biotin blocking
Process >50 percent fewer slides
Results in less than two hours
Compatible with automated IHC instruments
Significant increase in staining sensitivity
Ordering Information
Multiplex Detection
Description
Cat. No.
Download
MACH 2 Double Stain 1
4-step procedure. anti-mouse-AP + anti-rabbit-HRP
MRCT523 G, H, L
Data Sheet
MACH 2 Double Stain 2
4-step procedure. anti-mouse-HRP + anti-rabbit-AP
MRCT525 G, H, L
Data Sheet
MACH 2 Mouse Kit
(Kit components ordered individually)
7-step procedure. The kit requires Denaturing Solution*, HRP and AP.
The MACH 2 Mouse Kit is comprised of components that must be ordered separately.
MHRP520 (HRP) G, H, L
MALP521 (AP) G, H, L
DNS001 H, L
Data Sheet
Denaturing Solution (elution step)
In a seven-step double stain procedure, this solution denatures the first antibody to ensure the second staining protocol will not cross-react with the first.
| Product Name | Cat. No. | Download |
| --- | --- | --- |
| Denaturing Solution | DNS001 H, L | Data Sheet |