Biocare Medical is the proven leader in providing multiplex detection platforms that enable simultaneous IHC staining with multiple antibodies on a single slide. This IHC detection system increases reimbursement per slide, simplifies procedures and reduces turnaround time.
Multiplex Micro-polymer Detection Kits
The innovative AP (Alkaline Phosphatase) and HRP (Horseradish Peroxidase) micro-polymer technology is designed for a rapid multiplex stain procedure, i.e. multiple antigens on the same slide. The micro-polymer confers significant increase in staining sensitivity when compared to conventional polymer detection systems and is optimized for human tissue.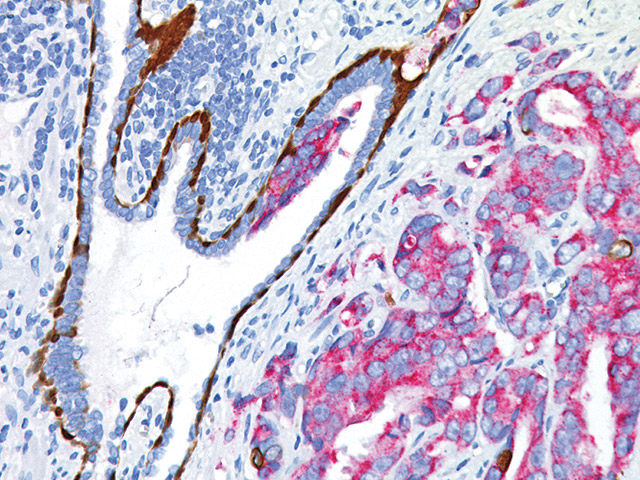 Prostate cancer & prostatic intraepithelial neoplasia stained with PIN-4™
View All Multiplex Antibodies
Key features of multiplex micro-polymer detection
•Simplifies protocols by reducing the number of steps (4 steps)
•Eliminates endogenous biotin blocking
•Process >50 percent fewer slides
•Results in less than two hours
•Compatible with automated IHC instruments
•Significant increase in staining sensitivity
Multiplex Detection Ordering Information