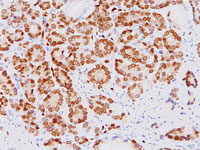 > 99% specific for prostate carcinoma with clone 9FY1
ERG positive PIN is associated with 90% of index tumors
ERG high grade PIN may indicate the need for a subsequent biopsy
Present in 50-70% of all prostate carcinomas, ERG oncoprotein expression has been shown to be a highly specific marker for prostate cancer. Given the lack of ERG expression in a wide variety of normal epithelial tissues and tumors, and its robust presence in prostatic adenocarcinoma, detection of ERG by IHC is a valuable tool for diagnosing prostate cancer or determining prostatic origin.
In prostate cancer, the ERG gene locus may undergo a chromosomal translocation with the androgen-regulated transmembrane protease serine 2 (TMPRSS2) gene, resulting in the expression of an TMPRSS2-ERG oncoprotein; a new diagnostic marker of prostate cancer. The TMPRSS2-ERG fusion has been found to be the most common proto-oncogene present in prostate cancers, occurring in 50-70% of cases. Molecular methods (FISH, bDNA) have shown a strong correlation between TMRPSS2-ERG rearrangement status and ERG expression, as detected by IHC.
Developed in collaboration with scientists at the Center for Prostatic Disease Research and the Henry M. Jackson Foundation for the Advancement of Military Medicine, the anti-ERG antibody [9FY] offers a superior method for ERG detection by IHC, with >99.9% specificity. Importantly, the 9FY antibody does not stain lymphocytes, offering easier interpretation and increasing diagnostic confidence. The strong correlation between ERG-positive prostatic intraepithelial neoplasia (PIN) and associated ERG-positive carcinoma (96.5%) suggests that in cases of ERG-positive PIN in biopsy samples, carcinoma may be indicated and additional diagnostic follow-up may be prudent.
Given the ease of performing IHC vs. FISH, ERG protein expression in formalin fixed paraffin embedded tissues is an exceptionally useful tool for the routine determination of ERG rearrangement status and diagnosis of prostate adenocarcinoma.
1. Furosato et. al, ERG oncoprotein expression in prostate cancer, Prostate Cancer and Prostatic Diseases (2010) 13, 228-237