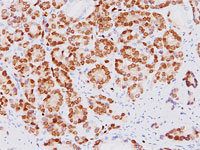 Biocare Medical is proud to announce a licensing agreement with The Henry M Jackson Foundation for the Advancement of Military Medicine, Inc. (HJF) for the exclusive world wide sales and distribution rights of the anti-ERG monoclonal antibody (clone 9FY – the CPDR ERG- MAb) for in-vitro diagnostics, prognostics, patient monitoring, and screening by immunohistochemistry. In addition, Biocare Medical under a Cooperative Research and Development Agreement will join in collaboration with researchers at the Uniformed Services University of the Health Sciences' (USU) Center for Prostate Disease Research (CPDR) and investigators at the Armed Forces Institute of Pathology (AFIP) and Walter Reed Army Medical Center to further study the anti-ERG antibody and its clinical diagnostic potential.
The mouse monoclonal anti-ERG antibody, which specifically recognizes the ERG oncoprotein, was developed at the CPDR, a multi-disciplinary prostate cancer translational research program that is part of USU's Department of Surgery in collaboration with HJF. (Furusato, et. al. Prostate Cancer Prostatic Dis. 13, 2010, 228). Androgen dependent oncogenic activation of the ERG gene as a result of gene fusions has been identified as a potentially causal alteration in 50-70% of prostate cancer patients. The CPDR ERG-MAb provided the first insights into the ERG oncoprotein expression features in the prostate gland and showed an unprecedented specificity (99.9%) for detecting prostate tumor cells. Importantly, there was a strong correlation (97%) between the presence of ERG-positive prostatic intraepithelial neoplasia (PIN) and ERG-positive carcinoma.
ERG oncoprotein is a promising diagnostic marker for identifying prostatic adenocarcinoma and distinguishing it from non-neoplastic prostate and other adenocarcinomas. ERG MAb may also be utilized for detecting ERG protein alterations in Acute Myelogenous Leukemia, Ewing Sarcoma, Kaposi Sarcoma, angiosarcoma, epithelioid hemangioendothelioma, and endothelial components of hemangiomas.
We are excited about the potential for aiding in the diagnosis of prostate cancer through streamlining the detection of the ERG oncoprotein in clinical specimens using the ERG MAb" said Dr. Shiv Srivastava, USU Professor and Co-director of the CPDR.
"I am highly impressed with the remarkable specificity and robustness of the ERG MAb in indentifying tumors cells in the prostate" says Dr. Sesterhenn, Chair of the Genitourinary Pathology at the AFIP.
About Biocare Medical
Biocare Medical LLC is an innovator in developing and supplying world class automated immunohistochemistry instrumentation, and the full range of reagents for IHC lab testing. Biocare is the market leader in simultaneous Multiplex IHC and antibody development which solves difficult clinical problems and accelerates turnaround time. The company's customers include clinical histology laboratories, pharmaceutical companies, CROs, and biotechnology companies, as well as academic, government, military, and other non-profit laboratories. Biocare Medical offers an expanding portfolio of integrated products to address the rapidly growing cancer and infectious disease diagnostic and research markets using tissue immunostaining and in situ hybridization methods. Biocare Medical is headquartered and has manufacturing facilities in Concord, Calif., and has a global distribution network.
About CPDR
The Center for Prostate Disease Research is an internationally recognized inter-disciplinary program of the Department of Surgery of the Uniformed Services University of the Health
Sciences (USU), the Department of Defense's federal health sciences university in affiliation with
the Walter Reed Army Medical Center (WRAMC), Armed Forces Institute of Pathology (AFIP), and
many tri-service military medical centers, and is a collaboration with The Henry M. Jackson
Foundation for the Advancement of Military Medicine, Inc.
About USU
USU, located in Bethesda, MD, is the nation's federal health sciences university within the
Department of Defense. The University is recognized worldwide as a preeminent center for the
study of military and emergency medicine, preventive medicine, tropical diseases, disaster
medicine and adaptation to extreme environments. Of the university's more than 4,700 physician
alumni, the vast majority serves on active duty and are supporting operations in Iraq, Afghanistan
and elsewhere, offering their leadership and expertise.
About HJF
HJF is a private, not-for-profit organization established in 1983 and authorized by Congress to
support medical research and education at USU and throughout the broader military medical
community. HJF provides scientific and management services for CPDR, a tri-service research
program.