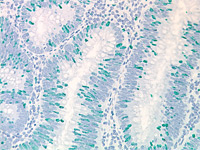 Biocare Medical is proud to present Vina Green Chromogen to the clinical diagnostic and research markets. The advanced formulation of Vina Green provides stable and vivid staining quality. The chromogen is a two-component system that produces a green stain in the presence of horseradish peroxidase. Vina Green is clearly distinguishable from Warp Red and DAB on a single slide, enabling high flexibility for its application in Multiplex IHC™. It can be permanently mounted in a variety of mounting media and is suitable for both Immunohistochemistry (IHC) and in situ hybridization (ISH) applications.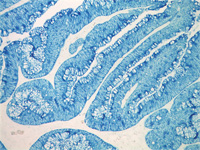 The newly formulated Ferangi Blue Kit 2 is a stable two-component system, providing increased staining sensitivity and flexibility. The kit consists of liquid Ferangi Blue Chromogen and Buffer, which produce a permanent, bright royal blue precipitate in the presence of alkaline phosphatase enzyme. This improved system results in simplified chromogen mixing steps and enhanced staining signals. Typically, Ferangi Blue achieves robust staining intensity in 5-7 minutes. Incubation can be extended to 10 minutes if more intense staining is desired. Ferangi Blue is clearly distinguished from Warp Red and DAB, enabling high flexibility for its application on Multiplex IHC™. The Ferangi Blue kit is available for both manual and automated systems such as the intelliPATH™.
About Biocare Medical
Biocare Medical LLC is an innovator in developing and supplying world class automated immunohistochemistry instrumentation, and the full range of reagents for IHC lab testing. Biocare is the market leader in simultaneous Multiplex IHC and antibody development which solves difficult clinical problems and accelerates turnaround time. The company's customers include clinical histology laboratories, pharmaceutical companies, CROs, and biotechnology companies, as well as academic, government, military, and other non-profit laboratories. Biocare Medical offers an expanding portfolio of integrated products to address the rapidly growing cancer and infectious disease diagnostic and research markets using tissue immunostaining and in situ hybridization methods. Biocare Medical is headquartered and has manufacturing facilities in Concord, Calif., and has a global distribution network.