Biocare Medical MACH4 Universal Polymer Utilized by CDC for Immunohistochemical Detection of SARS-CoV-2 in COVID-19 Caused Respiratory Infections
June 22, 2020 – Biocare Medical, a leading provider of innovative, automated immunohistochemistry (IHC) reagents, instrumentation and detection systems has been mentioned in a recent early release study by the Centers for Disease Control: Pathology and Pathogensis of SARS-CoV-2 Associated with Fatal Corona Virus Disease.
The ongoing pandemic of the novel coronavirus disease (COVID-19), as caused by the SARS-CoV-2 virus, has created an urgent need for new research into diagnostic testing and treatments. As a part of the public health response, the CDC Infectious Diseases Pathology Branch has been examining the histopathology and cellular localization of the SARS-CoV-2 virus, which has been critical to understanding its pathogenesis.
The recent CDC study of autopsied lung tissue from fatal cases has utilized Biocare's MACH4 Universal AP Polymer Detection along with our unique antigen retrieval buffers in order to obtain key immunohistological findings regarding the virus's localization in the lungs.
Biocare Medical is excited to announce the use of our novel detection system MACH4 Universal AP Detection system to aid the CDC in the pathologic evaluation and cellular localization within tissues, which will be crucial in the development of therapeutic and preventative countermeasures to this global pandemic.
To Read the Full CDC Early Release Visit the Link Below:
---
Pathology and Pathogenesis of SARS-CoV-2 Associated with Fatal Coronavirus Disease, United States
Read Article Here
Learn more about the Biocare MACH4 Universal AP Polymer Detection System Used by the CDC 
Learn More About Biocare MACH4 Detection
Learn more about Biocare Antigen Retrieval Solutions
Learn More About Biocare Antigen Retrieval Solutions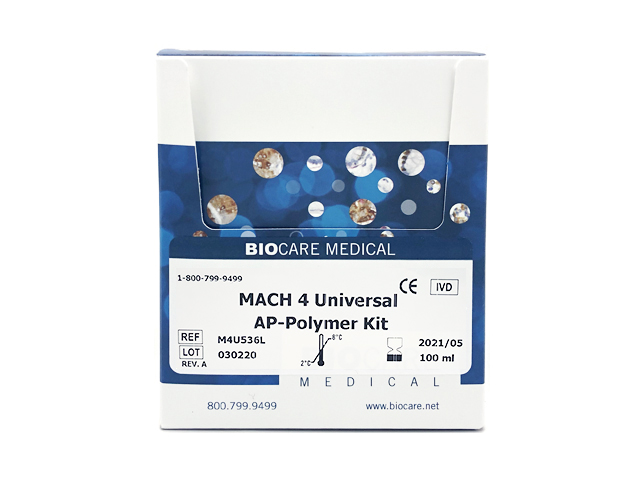 About Biocare Medical
Biocare Medical is a global leader in solutions for cancer research and diagnostics, providing: world-class reagents, including tissue-conserving simultaneous Multiplex antibody cocktails and detections; renowned Customer Care; and a comprehensive suite of advanced instrumentation for IHC, molecular, and histology testing. Customers include clinical anatomic pathology laboratories, pharmaceutical companies, CROs, and biotechnology companies as well as academic, government, military, and other non-profit laboratories. Biocare's reagent portfolio includes primary antibodies, Multiplex IHC, and FISH probes for target indications. Biocare also offers a unique line of polymer detections for clinical, human, and animal research that deliver high sensitivity and exceptionally low background. The Company's advanced platforms of semi and fully-automated instrumentation have been designed to meet every need from high throughput clinical diagnostics to flexible research requirements. Biocare Medical's corporate headquarters and operations are based in the San Francisco Bay Area with a global distribution network.