Concord, CA, July 17, 2014 – Biocare Medical is proud to announce that the United States Patent and Trademark Office has issued US Patent 8,603,765 to Biocare Medical for its PIN-4™ (CK5/14 + P63 + P504S) Multiplex immunohistochemistry (IHC) technology. The PIN-4 antibody cocktail of P504S + p63 + High Molecular Weight Cytokeratin permits the simultaneous evaluation of prostate glands and the identification of cancerous foci on a single tissue section, using a two-color staining protocol. The PIN-4 cocktail has become the standard of care for the evaluation of prostate biopsies.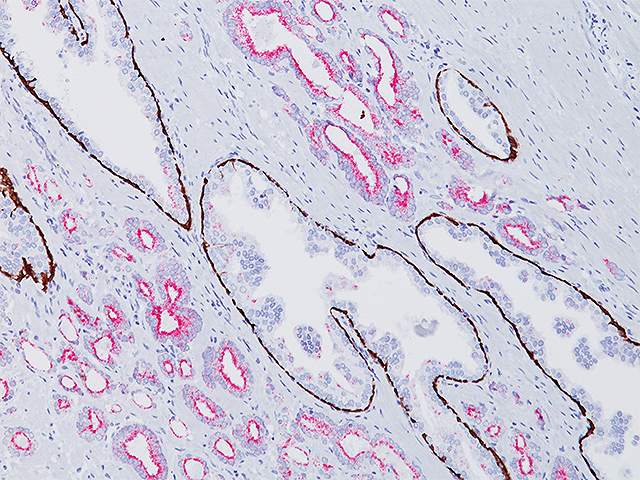 US Patent 8,603,735.
According to Dr. David Tacha, Chief Scientific Officer at Biocare Medical and inventor of PIN-4, "When the PIN-4 double stain was developed at Biocare Medical, double stain technology using immunohistochemistry methods was virtually nonexistent in most hospitals and universities. PIN-4 became such a valuable tool for interpretation of prostate needle biopsies; it single-handedly cracked the code in the United States. In other words, PIN-4 was the catalyst for the double stain revolution in America."
For more information, go to https://biocare.net/product/ck514-p63-p504s/
About Biocare Medical
Biocare Medical, LLC is an innovator in developing and supplying world class automated immunohistochemistry (IHC) instrumentation, and the full range of reagents for IHC and ISH lab testing. Biocare Medical is the market leader in simultaneous Multiplex IHC and antibody development, which aids in the assessment of clinical cases and accelerates turnaround time. The company's customers include clinical histology laboratories, pharmaceutical companies, CROs, and biotechnology companies as well as academic, government, military, and other non-profit laboratories. Biocare Medical offers an expanding portfolio of integrated products to address the rapidly growing cancer and infectious disease diagnostic and research markets using tissue immunostaining and in situ hybridization methods. Biocare Medical is headquartered and has manufacturing facilities in Concord, California, and has a global distribution network. For more information, please visit www.biocare.net.