System Overview
NEW, The ONCORE Automated Slide Staining System now performs fully automated ISH so you can run your FISH probes and CISH probes with full automation and the convenience of a compact bench-top system.  
The ONCORE Automated Slide Staining System performs IHC while enabling customized processing of up to 36 slides at once. Each slide loaded onto the ONCORE system may be processed with a different protocol; regardless of position. Slide processing is facilitated by unique reaction modules that enclose slides between a heated platform and a novel reagent containment chamber. In this compact and convenient bench-top system, reagents are dispensed onto slides through ports attached to each chamber. To maximize stain intensity and minimize background, chambers are capable of gentle agitation to enhance processing throughout the staining procedure. A full range of specially designed reagents to support IHC are available for the ONCORE system.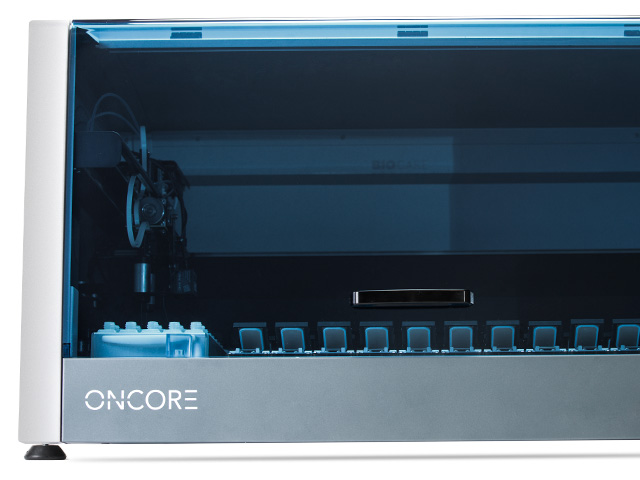 ONCORE Video Presentation
Full Automation
The ONCORE Automated Slide Staining System is a compact and convenient bench-top instrument that is capable of performing immunohistochemistry (IHC) procedures on formalin-fixed paraffin-embedded (FFPE) tissues. The on-board capabilities include slide baking, deparaffinization, antigen retrieval, and antibody or probe detection for IHC and Multiplex IHC applications.
Performs on-line protocol steps
Baking to chromogen incubation for improved consistency
Capable of processing IHC procedures
Small footprint conserves bench space
Innovative Technology
The ONCORE's unique reaction modules enclose slides between a heated platform and a reagent containment chamber. These chambers provide gentle agitation during reagent incubation to maximize stain intensity. Reagent vials are identified using RFID technology which stores vital information including name, lot number, expiration date, and the number of tests. This minimizes user error through real-time tracking of reagent volumes and enables sharing of reagents among multiple instruments.
Kinetic incubation to maximize staining intensity
Unique RFID reagent tracking technology
Capable of processing IHC procedures
Reagent chambers minimize reagent use & evaporation
Convenience & Ease-of-use
The ONCORE contains multiple features for added convenience, flexibility, and ease of use. The system's software interface is intuitive and easy to use; requiring minimal user interaction from the beginning-to-end of a run. The ONCORE also utilizes 2-D Matrix labels that can be printed for patient slides in order to eliminate patient identification errors. The independent slide positions allow for unique protocols to be performed on each slide during a run.
Intuitive software for improved ease of use
2-D Matrix labels to virtually eliminate patient ID errors
Waste separation reduces hazardous waste disposal costs
Reagent Menu
IHC reagents specifically designed for use on the instrument produce exceptional staining quality. Use primary antibodies from alternate vendors using the 7 ml Improv™ vials. The ONCORE's Multiplex IHC capability and patent-pending Multiplex detection conserves patient tissue, reduces slide volume and can lower labor costs by 50%.
Pre-optimized ONCORE IHC reagent line
User-fillable vials for third party primary antibodies
Simultaneous Multiplex IHC*
Note:  The ONCORE is available for sale in North America, Central America, South America, India, Indonesia, Turkey and Japan.