Biocare Medical Launches ONCORE™ Automated Slide Staining System
Concord, CA, April 14, 2014 – Biocare Medical is proud to announce the expansion of their automated instrumentation offering with the release of the ONCORE™ Automated Slide Staining System. The ONCORE is a compact and convenient bench-top instrument that is capable of performing both immunohistochemistry (IHC) and in situ hybridization (ISH) testing procedures on formalin-fixed paraffin-embedded (FFPE) tissues. The on-board capabilities of the ONCORE include: baking, deparaffinization, antigen retrieval, and antibody or probe detection for IHC, ISH, and Multiplex IHC applications. The ONCORE will be accompanied by a suite of proprietary primary antibodies, IHC, and ISH reagents specifically designed to produce exceptional staining quality.
"We are very excited to be adding the ONCORE to our instrumentation menu – bringing a new fully-automated IHC and ISH system to the market to provide state-of-the-art quality staining", said Roy Yih, President and CEO of Biocare Medical. "We are passionate about what we do and we are able to maintain a steady flow of new products, and continue listening to our clients. Also, with our full-service support group, we are able to respond to our customers in a timely manner, instilling confidence in Biocare, our products and our support."
For more information, go to https://biocare.net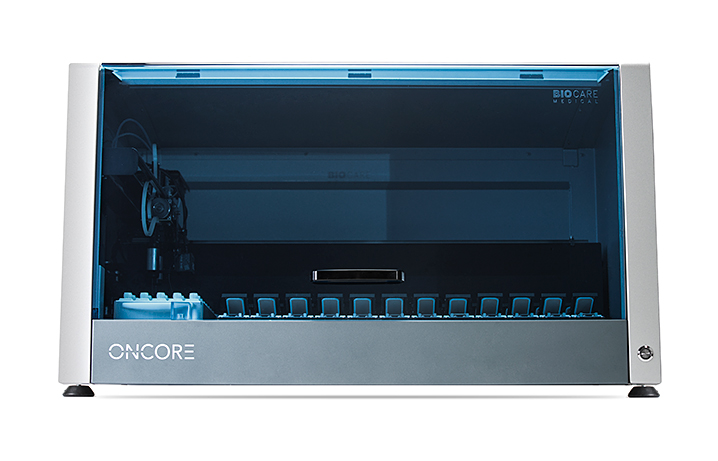 About Biocare Medical
Biocare Medical, LLC is an innovator in developing and supplying world class automated immunohistochemistry (IHC) instrumentation and the full range of reagents for IHC and ISH lab testing. Biocare Medical is the market leader in simultaneous Multiplex IHC and antibody development, which aids in the assessment of clinical cases and accelerates turnaround time. The company's customers include clinical histology laboratories, pharmaceutical companies, CROs, and biotechnology companies as well as academic, government, military, and other non-profit laboratories. Biocare Medical offers an expanding portfolio of integrated products to address the rapidly growing cancer and infectious disease diagnostic and research markets using tissue immunostaining and in situ hybridization methods. Biocare Medical is headquartered and has manufacturing facilities in Concord, California, and has a global distribution network. For more information, please visit www.biocare.net.