Biocare has a history of supporting pharmaceutical, biotechnology and diagnostic partners in the research and clinical settings, and in response to increasing demand for diagnostic and drug co-development services we've expanded our remit to include end-to-end translational research and clinical trial services. We now offer CRO, assay development, validation and clinical trial testing services through our Biocare Lab Services site in Irvine, CA. We provide customers with full service R&D functions from assay development through commercialization, generally via a fee for service model.
Our core competencies include
Immunohistochemistry and in situ hybridization, both chromogenic and fluorescent
FISH probe design and manufacture
Assay design, development and validation
End-to-end clinical trial testing services, including sample preparation, biomarker analyses and reporting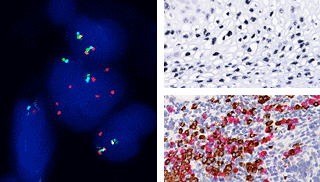 Lab Services Available for IHC, IF, ISH & FISH
CAP/CLIA accredited facility
Frozen Sections
FFPE Sections
High-volume Staining (Commercial & Custom Antibodies & Probes)
Assay Development & Optimization (IHC, IF, ISH & FISH)
Human-On-Human Detection System: Convenient detection of human/humanized antibodies on human tissues with no background
IF & IHC Multiplexing
Custom ISH & FISH Probe Design
IVD Reagent Development
Data Management
Clinical Project & Program Management
Detection Chemistries Optimized for: Human, Non-human Primate, Rodent, Rabbit, Canine & Feline tissue
IHC – immunohistochemistry
CAP/CLIA accredited facility with capabilities spanning frozen and FFPE sections; Biocare can accommodate 'on demand' custom work on other samples types. Sections can be provided directly by the researcher or cut in our lab. IHC assay optimization including development of antibody cocktails to facilitate multiplex staining. Micro-polymer based detection chemistries with high sensitivity and specificity optimized for a variety of species including human, monkey, rodent, rabbit, dog and cat.
ISH – in situ hybridization
Optimization of ISH assay conditions using your probe or custom Biocare design to your desired target. Complete assay development, implementation and training in your laboratory. Multiplex IHC and ISH assay feasibility and optimization. Combination gene and protein expression assays utilizing simultaneous multiplexing on a single slide.
FISH
Probe design, assay optimization and FISH staining on FFPE, blood and cytological fluids. Patent-pending DelTECT™ multicolor platform for deletion detection improves accuracy by reducing false positive deletion readouts due to truncation artifacts. Improved labeling technology and use of CGH and Patient Cohort data results in 'tight and bright' probes designed to reduce both false negatives and false positives. Samples can be sent as FFPE blocks, blood films or cytological preparations of body fluids including urine.
ANTIBODY & PROTEIN LABELING
Fluorescent labeling of primary antibodies utilizing a variety of different wavelength fluors and linker chemistries. Small volume feasibility lots to large volume batches for routine testing. RUO, IUO and IVD manufacture under GMP conditions.
HYBRIDOMA SCREENING
Screening of multiple clones of research antibody to determine optimum titer or target tissue. Sensitivity and specificity testing on multiple tissue and tumor types. Testing of a variety of antibody conditions to meet project requirements. Testing from multiple hostspecies, including rabbit, rodent, human.